Iredell Health System offers our community a wide range of heart and vascular care. Our team of cardiologists, vascular surgeons and expert nursing staff offers complete comprehensive care.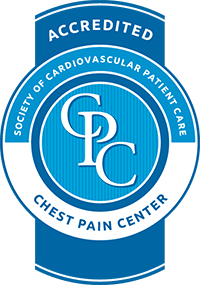 About our chest pain certification
Since 2011, Iredell Health System has been a Certified Chest Pain Center. Our chest pain certification shows our commitment to offering the very best care to patients with acute coronary syndrome. According to the Society of Cardiovascular Patient Care, "participating facilities are left with more efficient, effective organizations in addition to improved patient outcomes."
Heart care at Iredell
At Iredell, we treat the whole person because heart disease affects your whole life.
Proactive in the fight against cardiovascular disease
Cardiovascular disease is America's number one killer. But in many cases, it can be diagnosed and treated before symptoms occur. Iredell is proactive in the fight against cardiovascular disease by offering health screenings and programs throughout the year.
Do you know the early warning signs of a heart attack? Check out this EHAC brochure for info. Also available in Spanish.
Learn more on the American Heart Association website.
Our mission is to return patients to a full and productive life
When heart disease strikes, our mission is to restore heart function and return our patients to a full and productive life. When a cardiac crisis arises, we have cardiac interventionalists, who act quickly to treat patients with stents and balloons during the onset of a heart attack. Iredell Health System was the first in the county to provide this life-saving technology.
Effective treatment options
We use the most sophisticated technology available that detects early signs of heart disease, thus preventing heart attacks and strokes. Our cardiac imaging technology is so sophisticated that physicians can actually watch your heart function and detect the plaque that may be clogging arteries before symptoms occur. This allows us to diagnose cardiovascular disease quickly so that we can provide effective treatment options. Learn more about our stroke program, too.
Wonder what medications are commonly prescribed for heart patients? Read our PDF.
High Performing Ranking
Iredell Memorial Hospital was ranked "High Performing" by U.S. News & World Report's 2021-22 Best Hospitals ranking for its treatment of patients in three medical specialty categories: heart attack, heart failure, and chronic obstructive pulmonary disease (COPD).
U.S. News produced these rankings in conjunction with RTI International, a leading research organization based in Research Triangle Park, North Carolina. The specific rankings were determined based on measures such as risk-adjusted survival, discharge-to-home rates, volume, and quality of nursing, among other patient care-related indicators. Hospitals are rated as high performing, average, or below average, relative to other rated hospitals in treating patients 65 years of age and older.
These rankings can help patients, and their doctors, decide the best place to receive the care they need based on their specific type of procedure or condition.
As the only hospital in Iredell County ranked as high performing, Iredell Memorial Hospital is proud to provide the utmost compassion and care that each individual patient both needs and deserves.