Pneumonia is an infection of the lungs. There are different types of pneumonia. One type can develop while a person is in a hospital. A different type, called community-acquired pneumonia, develops in people who are not, or have not recently been, in the hospital or other health care facility.
MyIredell
Patient portal allowing you to have your healthcare information at your fingertips.
Click on the image below to open a PDF outlining when you should see a provider.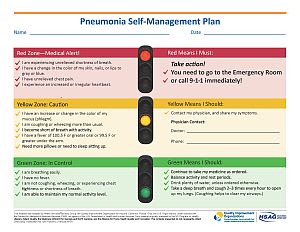 Better Breathers Club
A support group for people living with pulmonary disease. Meets from 10:30 a.m. to noon on the 3rd Monday of each month in Iredell Health System's Outpatient Services Building community classroom, 739 Hartness Road, Statesville, NC. No registration required.
Pulmonary Rehab
A physician referral is required, but services include:
individualized exercise training
nutritional counseling
education and management of lung disease
energy conserving techniques
breathing strategies
psychological counseling and or support groups
tobacco cessation
strategies to improve activities of daily living
Read information about the services and requirements.
For more information on pneumonia
Visit the CDC website.